Message from CEO
Late 1980's which was the golden period, skiing as a winter sport was very popular among young and old in Japan. Since the bubble burst of nation's economy, people involving the industry declined to lose cheers and smiles. However, he communities around ski resorts, which have a lot of natural resources, have been beautiful and still been brilliant. It is because there are plenty of enduring attractions which the areas have respectively in the environment.
Taking the rapid growth of the economy in Asia/Pacific region into consideration, we expect Tokyo Olympic Games in 2020 shall bring us much opportunity of the business. We would like to promote these Japan's beauty to the world. Therefore, we are looking to the global market in addition to the domestic market.
We also expect that the ski resorts are getting revived year by year. As one of the material actions in 2017, we put the head office located in Hakuba village, Japan, where the Nagano Olympic Games were held in 1998.
In summary, we respect the aspirations and dreams which people holds onto the ski resorts and surrounding areas respectively. We commit to make continuous efforts to establish and foster the "Happy Triangle" relationship among the natural environment, the communities, and our guests.


Sincerely
Auditor →
With the successful development history of the ski resorts in Japan,
Natural resources around the Japan ski resorts have been alluring the people ever since old time. For example, they are dry powder snow and traditional landscapes in addition to convenient access from the metropolitan area. They have been appealing many international tourists from Europe, America and Asia/Pacific region in addition to domestic tourists. We would like to execute our best practices at each location for the ski resorts as our valued assets.
As an expert company for ski area operation.
We would like to harmonize all of unique resources and business in order for developing four season resorts in Japan better day by day.
We are executing renovation and maintenance of facilities in addition to service contents for ski resorts. It is necessary for us to cooperate and align with the communities and employees around the areas, which are also our source of energy.
We are pursuing needs with changes in the world environment and are updating the attractiveness of the mountain resorts, looking to the world in addition to domestic market. It is for sure that, with our aspirations, ski resorts will create new business and job opportunities, which will lead further development of local business.
We believe that promotion of ski areas and the development of local business/tourism are top-and-bottom side of the coin. With this perspective over respecting history and philosophy of communities, we would like to contribute to regional economy pursuing the "Happy Triangle".
Corporate Philosophy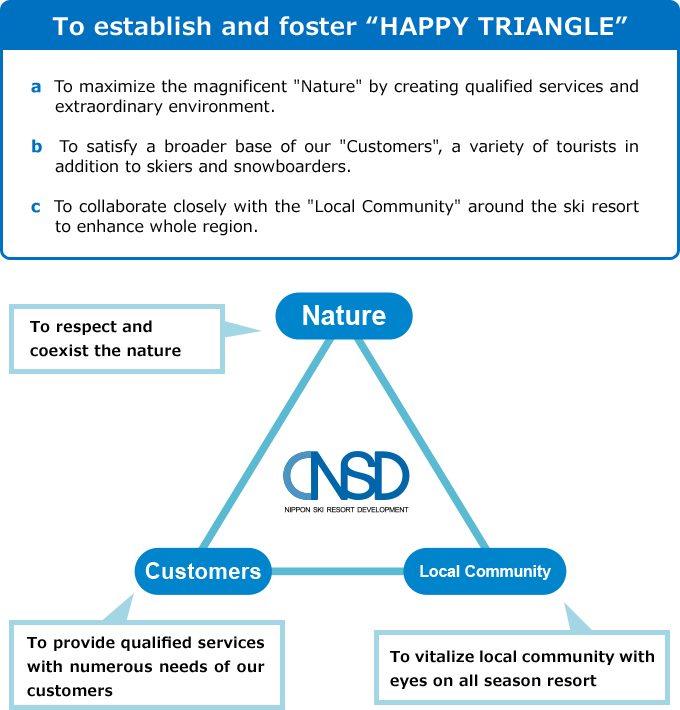 Our mission
Our greatest mission is to have people as many as possible experience the natural wonder and the pleasures of winter sports. It shall be executed by solving all kinds of issues related to skiing resort operations and by creating extraordinary environment.
Our course of action
・We respect nature and abide by the regulations.
・We respect human life and set high value on safety and health.
・We provide the highest quality of services with friendship, sense of justice and pride.
・We enjoy challenges, innovations and creation with curiosity and sense of fun.
・We place importance on teamwork and community.
・We eliminate the threats posed by antisocial forces.
・We do not settle for anything less than excellence in all of our services.
Our responsibility
・For the Nature
 Snow sports are the gifts from the earth and the power of gravity.
 We cherish them and strive for the preservation.
・For the Communities
 As business corporation is a public entity,
 we conform to the culture and the custom, and contribute to the development of the local business through the activities.
・For the Guests
 Their satisfaction is our pleasures. We are dedicated to the guests.
・For the Employees
 They are our most valuable assets. We are making efforts to provide comfortable and safety working conditions.
・For the Next Generation
 Children is our treasure. We are firmly maintaining the magnificence of nature, thrill of winter sports, importance of family and associates,
 and exciting experiences of work to next generation.